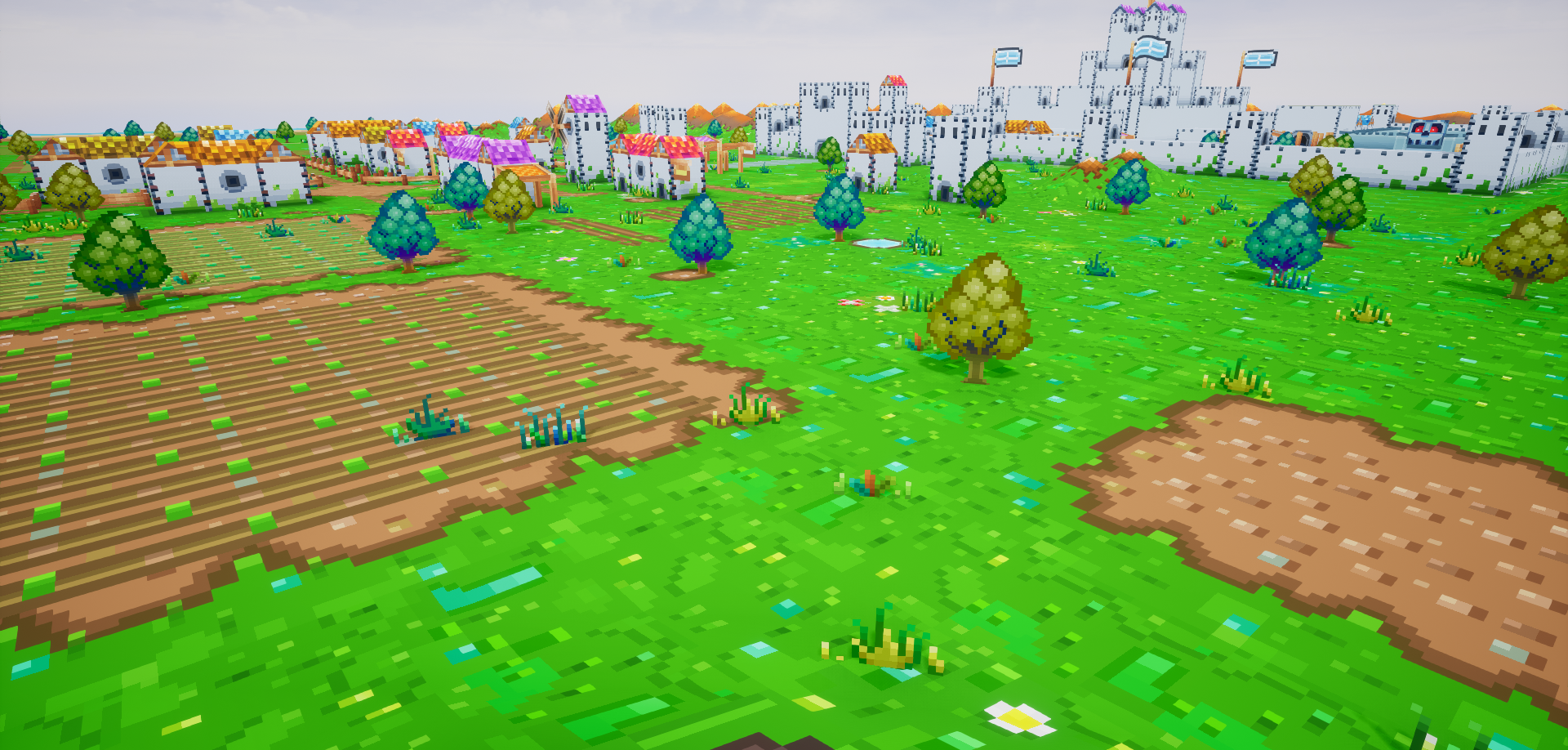 Medieval fantasy: 3d pixel art tileset
A downloadable Fantasy 3D asset pack
A 3d world, pixel art style, uses 16 x 16 pixel size tiles, everything is packed into a 256 x 256 px size texture (128 x 128 px old version 1.0), no need to to look for textures or load them one by one.
Model is also setup to have all it's textures on one single drag and drop FBX file or OBJ format.

Most of the material is modular, to merge them anyway you see fit, it contains 256 tiles.

The whole set is composed of simple shapes and cubes, the map is 33k triangles, the bigger the map the more polygons it will use.

*Outdoors:

-Grass , flower , dirt, stone path
-multiple paths
-small, medium and large mountain sets
-Rocks
-floor + decorations
-grass to dirt
-dirt to sand
-sand to water

*Castle:

-a variety of modular "stone" walls, floors and towers
- smaller buildings
-castle flag
-Timber logs (fences)
-watch towers, using same tiles

*Town

-House roofs
-Windmill
-Big Houses
-wood fences (uses timber log texture)
-store sign
-wood market
-farming fields
-water well

*Dungeon

-walls
-skull door entrance
-floor
-mini castle

Notes :

- create bigger rooms and walls, shape the field, outdoors and town.

- castle material can be blended with other hues to add variation

-textures where possible, have hand made occlusion to avoid floaty looking assets (no need for engine to apply it real time)

-easy to reuse textures, basic 3d skills needed to split, merge, rotate and re-merge the geometry, user may have to split and re-merge their own building with desired shape and size.
-some buildings already merged

-Providing a merged version and a splitted mesh file. (Only .FBX file is the original splitted version, user can build specific tiles and sizes they wish to use, as I did the world for demostration purposes, the .OBJ file is all merged only)

-main purpose of this setup is to avoid loading multiple files and materials, using one for everything instead

-Inside 3d game engine, light and shadow cast to get better results

-Enhanced version 2.0 added, instead of using 128 x 128 pixels , there is an increased size texture of 256x256 px, adding details.

-Do not resell the assets
-Tileset and 3d model setup can be used as you wish, commercial included


Updates:
1.- Texture version 2.0, refined edges, cleaner grass, extra details (updated and added to pack )

2.- Updated the mesh to use inside 3d engine (pixel perfect grid snapping, clean uvs working)

3.- Reworked pixel perfect uvs + added Roughness map for engine light to work properly (version 256 x 256 px only)

4.- Foliage, tree + grass added: single images or sprites, it can be darker or lighter with emissive multiplier in shader material (location of foliage sprites not included, user decides on how to spread it around the world, those were added inside unreal engine for demostration purposes, it is a single plane sprite that rotates and faces the player all the time)

Purchase
In order to download this Fantasy 3D asset pack you must purchase it at or above the minimum price of $9 USD. You will get access to the following files:
Overworld textures / map 3d .zip
3 MB
Overworld Roughness Map Only
35 kB